IAEE and member national organizations have been supporting the six scientists accused of having falsely reassuring information before L'Aquila earthquake. We sincerely welcome to see convictions overtuned in a higher court. Note that the prosecutors can still seek to have a fresh appeal to Italy's supreme court.
We are deeply grieved to inform the international community of earthquake engineers that Professor Sheldon Cherry, Professor Emeritus of Civil Engineering, University of British Columbia, Vancouver, has passed away on March 23, 2014, a few days short of his 86th birthday. Professor Cherry's service to IAEE was as follows: Director (1973-1980), President (1996-2002), Honorary Member (from 2004).
Shel, the friendly name with which he was known to all those who became acquainted with him, was born in Winnipeg, and received his B.Sc. (C.E.) from the University of Manitoba in 1949. He subsequently received an M.S. from the University of Illinois (1952) and a Ph.D. from the University of Bristol (1955). Shel then spent one year as an assistant professor at the University of Manitoba, before joining the Civil Engineering Department at UBC as an Assistant Professor in 1956. He was appointed as Professor in 1969. He remained in the Department until his retirement from teaching in 1993, though he continued to do administrative work for UBC (as well as IAEE) until 2012. During his career at UBC Shel served on many committees, and was Associate Dean of the Faculty of Graduate Studies for several years. After his retirement from teaching, he continued to serve UBC by chairing the committee charged with reviewing all UBC faculties. This lasted for seven years until his final retirement in 2010. [more]
The papers from 15WCEE are now available online.
The electric copies of the 3345 papers presented in the 15th World Conference on Earthquake Engineering in Lisbon, Portugal, 2012 are posted online (http://www.nicee.org/wcee/). The 15th WCEE provided a unique opportunity to establish synergies between participants from different engineering areas and from such varied fields as earth sciences, economics and social sciences, and contributed to a global effort of the scientific and technical community towards a safer world in what regards the earthquake risk.

Special thanks go to a digital archiving project of the WCEE proceedings.
---
The Republic of Costa Rica Joins IAEE as the Newest Member Country.
Following a formal application for membership by la Asociación Costarricense de Ingeniería Estructural y Sísmica (ACIES), the IAEE Executive Committee has resolved to accept Costa Rica as its newest Member Country. We welcome our Costa Rican colleagues into the Association. With this addition, IAEE now has reached 58 members.
---
A Tribute for Nicholas N. Ambraseys, Honorary Member, by Edmund Booth

Prof. N. N. Ambraseys
Nicholas Neocles Ambraseys (1929-2012) was one of the towering figures of engineering seismology, who played a key role in the development of the discipline for more than half a century - from before the foundation of the IAEE in 1963 (he attended the committee meetings in 1960 that led to its establishment) right up to the time of his death at his London home on 28th December. He was born to Greek parents and educated in Athens, although his mother was born in Alexandria and most of his professional life was based in the United Kingdom; he also spent extended periods abroad on earthquake field missions all over the world and had many strong academic links to continental Europe, the United States and elsewhere. His therefore was a truly international career; he used his ease in diverse cultures and languages in a very distinctive way to make important contributions to many aspects of our discipline. Most notable of these contributions were advancing the understanding of seismic slope stability, his collection and rigorous interpretation of earthquake field data, his pioneering use of historical documents for establishing extended records of seismic activity and (equally importantly) his inspirational teaching and mentoring of many generations of seismic engineers. He developed many tools to help the world cope better with earthquakes, and that contribution will be lasting.[more]
---
President's Message
Colleagues, Affiliate Members and Friends of IAEE,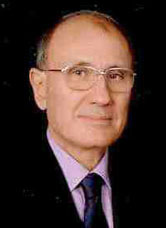 DR. POLAT GÜLKAN
The salutary address for this message might well have been directed to the millions of people in the world who are exposed to seismic risk, and whose lives and limbs may come under harm on account of the seismic threat. It is those multitudes that the activities of IAEE are intended to protect. Among objectives of IAEE is the promotion of international cooperation among scientists and engineers in the field of earthquake engineering through interchange of knowledge, ideas, and results of research and practical experience. From its inception, our Association has not confined its scope to just engineering, but has served as an authoritative platform of information for diverse professionals who deal with many aspects of earthquake loss mitigation. These include practitioners and researchers among engineers (civil, structural, mechanical, and geotechnical), architects and urban planners, earth scientists (geologists, geophysicists, seismologists), public officials, and, increasingly, social scientists.
The year 2012 marked the fiftieth anniversary of the founding of the International Association for Earthquake Engineering. The conceptual ground was broken for its creation during the second world conference in Tokyo in 1960, and two years later our charter was adopted, the central office began to function, and the first officers assumed their jobs. Only minor changes have occurred in the IAEE Statutes since they were first prepared in 1962, proving the durability of the provisions that govern our actions that were enunciated by our founding fathers. [more]
---
Updates on the 16th World Conference of Earthquake Engineering (16WCEE) in Santiago, Chile.
The conference will be held in January, 2017.
IAEE Central Office
---
THE IAEE AT FIFTY is now available online.
THE IAEE AT FIFTY: A Brief History of the International Association for Earthquake Engineering By Polat Gülkan and Robert Reitherman, September 2012
But disaster pursues us. It pursues us with a step as steady as time, and an appetite as keen as death.
- Lord Beaverbrook
CONTENTS
Acknowledgments
1. Introduction
2. A Half-Century of Perspective
3. Seismic Safety: Our Common, Elusive Goal
4. An Overview of the Establishment and Development of IAEE
5. World Seismic Safety Initiative (WSSI) and Other Global Programs
6. The World Conferences on Earthquake Engineering
7. Conclusion
Appendix 1
Prehistory of IAEE (1960 through 1963)
Appendix 2
Officers of IAEE from 1963
Appendix 3
Member Countries of IAEE as of 2012

---
Remembering The Great East Japan Earthquake of March 11, 2011
It has now been two years since the occurrence of what has turned out to be one of the deadliest and most costly natural disasters ever witnessed in the world. The M9 mega-event that shook the northeastern seaboard of Honshu Island, where the nearest major city is Sendai, ranks among the largest seismic events that have been recorded. The earthquake unleashed a major tsunami that swept across many smaller fishing settlements along the Tohoku coastline, and exacted a human loss toll that stands in excess of 18 000 with many injured. A series of seemingly unlikely equipment failures at the Fukushima Daiichi nuclear plant led to multiple meltdowns and releases of radioactive materials into the environment following the earthquake and tsunami. The scale of the disaster beggars description in terms also of economic losses.
While performance of building systems, railway networks and early warning equipment for lifelines was good, many images of death and destruction brought by the tsunami were etched into the memory of everyone in the world. The Japanese people bore the tragedy with fortitude, and have gained the respect of other countries that must live within the shadow of the seismic threat because of the many individual tales of communal spirit and selfless solidarity.
This disaster must serve as a call for sustained vigilance and unflagging preparedness to protect lives and assets against the seismic hazard. The Hyogo Framework for Action (HFA) against natural disasters and their harmful effects was crafted in 2005 in Japan ten years after the Kobe earthquake to serve as the blueprint for risk reduction policies that governments must adopt and enforce. The International Association for Earthquake Engineering (IAEE) was among professional organizations that contributed to the preparation of HFA, and through its member national organizations, has been among the principal mechanisms for implementing the guiding principles that it has outlined.
We respectfully commemorate the memory of victims of the March 11, 2011 Japan earthquake with bowed heads, and pledge to pursue the objectives of IAEE in ensuring a safer world for all those who stand in danger of the seismic peril.
Officers and Executive Committee Members of IAEE
---
More than 30 national organizations have endorsed the IAEE declaration on the sentencing of six scientists and one public administrator in Italy over accusations of having made a falsely reassuring statement before the L'Aquila Earthquake in 2009.
National organizations from the following countries
have endorsed to the IAEE declaration.
Algeria, Argentina, Australia, Austria, Bangladesh, Canada, Chile, China, Colombia, Costa Rica, Croatia, France, Germany, Greece, Israel, Japan, Korea, Macedonia, Mexico, Nepal, New Zealand, Norway, Peru, Portugal, Romania, Russia, Singapore, Spain, Switzerland, Chinese Taiwan, Thailand, Turkey, Ukraine, USA and Venezuela
---
Declaration by the International Association for Earthquake Engineering on the Sentencing of Seven Scientists in Italy Over Accusations of Having Made a Falsely Reassuring Statement Before the L'Aquila Earthquake in 2009
We are deeply shocked that seven scientists who were members of the National Commission for the Forecast and Prevention of Major Risks have been sentenced to prison terms for having provided "inaccurate, incomplete and contradictory" information about the danger of the minor tremors felt ahead of 6 April 2009 M6.3 earthquake, leading to the deaths of some 300 persons in and around the historic town of L'Aquila in central Italy.
While we have not examined the wording of the court's decision we must take a stand on what we believe is a flawed judgment that might have a negative impact for the future. Earthquake science is not a magical tool that allows anyone to state with any degree of credible reliability when and where an earthquake with a prescribed size will occur because earthquake occurrence does not conform to a simple and coherent pattern. The interpretation of minor foreshocks to state whether they herald a major earthquake to follow has yet never been done, except in the imagination of publicity seekers with no scientific credentials or on account of pure coincidence. The seven defendants are all well known in their respective professional fields, and enjoy the respect of their peers. We feel that justice has been poorly served, and a dangerous precedent has been established with the verdict. No responsible scientist will henceforth dare to risk his or her professional reputation (not to mention personal well-being) by interpreting signals of activity from volcanoes or possible effects of hurricanes. Forces of nature usually do not lend themselves to easy forecasts, and most are inherently unpredictable.
The communication of risk to the public in a way that it can be easily understood is one of the most difficult challenges facing science and technology. The loss of life that occurred in L'Acquila was tragic and regrettable, but that is attributable to many other causes besides the statement undersigned by the defendants,and the variability of the ground motions that attacked those buildings. The aftermath must not be allowed to turn into a spectacle calling for false culprits to punish in the interest of appeasing the public outrage. Instead, we must draw the right lessons so that there will be no victims in the future in this type of a preventable disaster.
---
Newest Tutorial from EERI and IAEE World Housing Encyclopedia:
Improving the Seismic Performance of Stone Masonry Buildings
Authored by Jitendra Bothara of New Zealand and Svetlana Brzev of Canada, the tutorial focuses on traditional stone masonry dwellings primarily in the earthquake-prone countries of Asia, explains the underlying causes for their poor seismic performance and offers techniques for improving both new and existing buildings. A pdf version of the tutorial is available at the World Housing Encyclopedia website: http://www.world-housing.net/tutorials/stone-tutorials
The production of the tutorial was a collaborative effort among EERI, the New Zealand Society for Earthquake Engineering and the Earthquake Engineering Center of the University of Engineering and Technology, Peshawar, Pakistan.
The Bureau for Crisis Prevention and Recovery of the United Nations Development Programme has printed copies of the tutorial for distribution through their program in Asia. The publication will be shared with UNDP country offices, national governments' disaster management ministries and offices, and used in training programs. EERI and the National Information Centre of Earthquake Engineering (NICEE) at the Indian Institute of Technology Kanpur have copies available for the cost of shipping and handling. EERI shipping rates are: $10 to the U.S., $15 to Canada and Mexico, and $20 to other countries. Please contact NICEE (nicee.org) to order the publication from them.
The World Housing Encyclopedia is a joint project of EERI and IAEE. More information is available at the project website: www.world-housing.net.
---
Announcement of the Joseph Penzien Memorial Fund
A fellowship fund has been established in the name of Joseph Penzien to fund and support graduate engineering students enrolled in the Department of Civil and Environmental Engineering at the University of California, Berkeley. Preference will be given to students who have demonstrated financial need and have chosen the field of structural engineering and structural mechanics. The goal is to raise $500,000 to qualify for a named graduate fellowship.
To make a contribution, please send cash/checks to Enid C. Pollack, Sr. Development Director at UC Berkeley College of Engineering, 210 McLaughlin Hall, College of Engineering, Berkeley, CA 94720-1722. Please make checks payable to UC Berkeley College of Engineering and include check memo: Joseph Penzien Memorial Fund. Ms. Pollack can be contacted by phone at 510-642-2257 or by email at epollack@berkeley.edu.
---
Online searchable World Conference Proceedings
All of the papers in the World Conference on Earthquake Engineering Proceedings from the first WCEE in 1956 to present have been digitized by the National Centre of Earthquake Engineering at the Indian Institute of Technology in Kanpur
Papers from all of the World Conferences can be accessed at:
---

Announcement of the Satoru Ohya Medal
The World Seismic Safety Initiative (WSSI) is pleased to announce creation of the Satoru Ohya Medal established in memory of Mr. Satoru Ohya. Mr. Ohya was a world leader in the field of seismic instrumentation and devoted his life to reducing the risks associated with earthquakes and other natural disasters, especially in the most vulnerable communities in developing countries of the world. He was the President and Chairman of the Board of OYO Corporation and served as President of the Geological Society of Japan and the Society of Exploration Geophysicists of Japan. He was heavily involved in the activities of WSSI and served on its Board of Directors. [more]


---
Earthquake Engineering & Structural Dynamics

Edited by: Anil K. Chopra, Peter Fajfar, Masayoshi Nakashima

Earthquake Engineering & Structural Dynamics leads the way in the field of earthquake engineering, publishing high quality research which is well cited as well as being endorsed by the International Association for Earthquake Engineering. For more information and to receive the latest (real time) updates, please visit John Wiley & Sons Publishing.
Recently Published Articles